MONOM
Late 2017 and I was interning as a technical support engineer at MONOM being taught and supervised by the MONOM's tech director Casimir Geelhoed and creative director William Russell.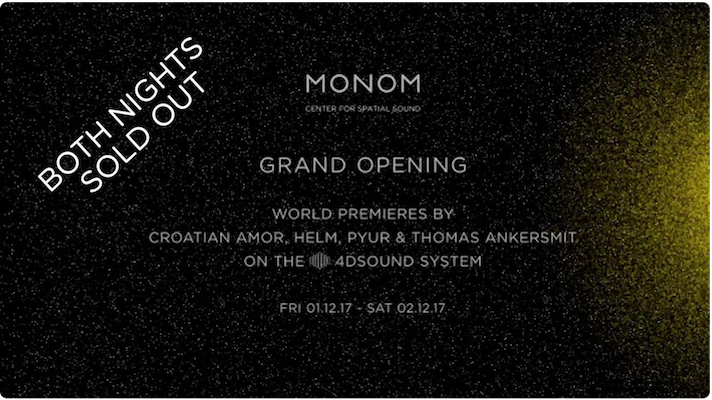 During the internship I was completely immersed into the world of creative coding, contemporary music and art. My tasks were to help artists setting up their equipment, and provided them with information about the 4DSOUND system. I was lucky to work with artists like Max Cooper, Caterina Barbieri, IOANN, Helm, Croatian Amor, Thomas Ankersmit, Pyur, Gaika, Pan Daijing, Fis, TCF, Abyss X, WaqWaq Kingodom, Flora...
I had to learn each element of the system by heart and remember every little detail about the studio itself. After I gained enough experience I was able to design custom controlling touch-screen interfaces for the artists. And finally I was able to participate as a live support engineer and the recording engineer in big events organised by MONOM such as The Grand Opening and CTM Festival 2018 – Turmoil.
Another important part of this experience was the teamwork of the whole intern crew. And at the end of our internship we had to passed gained knowledge to the next generation of tech interns.